(Client Mod)​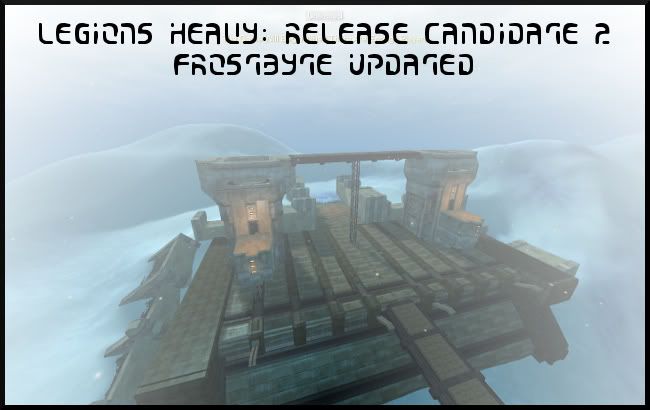 ​
​
Release 2 comes packed full of high resolution building textures, almost all of which I am very pleased with. As indicated previously, this release focuses on Frostbyte textures, however due to the large number of textures shared between all Legions: Overdrive maps almost all of these textures can be seen in other maps. The color scheme is a bit different (and can certainly be modified if necessary) but I did my best to preserve the original feel.​
This is a project I started working on just after Legions: Overdrive was released and never quite got around to finishing up. Legions Heavy replaces the standard 256x256 resolution Legions textures with 1024x1024 normal and diffuse textures and 512x512 - 1024x1024 detail map textures, resulting in generally nicer looking terrain and objects. As I mentioned earlier this HD texture pack is not complete, but in its current state it replaces a more than moderate number of terrain and building/object textures.
Some sample before and after comparison screenshots:
More screenshots from previous releases:
Nivosus
Mirage
How much will using Legions Heavy impact my performance?:
To be honest I don't have any solid data here. I would imagine that this wouldn't have much of an effect on game performance for the vast majority of modern computers. On my computer I never dip below 60+ fps with or without Legions Heavy (8GB RAM / NVIDIA GeForce GT 230).
Other Information and Important Sidenotes:
1) All textures used in Legions Heavy are edited textures originating from
CGTextures
.
2) All texture editing was done using
The GIMP
.
3) Textures of greater complexity than standard tileable ones are created using
The GIMP
and
Blender
.
4) Legions Heavy is so-named because it is in several regards the opposite of Mornaval's lag-reduction project,
Legions Lite
, which increases frame-rate drastically at the cost of aesthetics.
The Future of Legions Heavy:
After a moderate break following Release 2 I am now ready to start work on a third release (as of January 7th). I do not yet have any estimate for the release date as I do not know how large of a release this will be. Some goals for the release:
- Continue work on building textures.​
- Add more terrain textures.​
- Make attempts at UI improvements.​
- This is something I've wanted to do for quite a while, and I feel that it will make this project as a whole that much better. We'll see where this goes.​
Development is currently paused.
Download Links:
Mirror 1:
Localhostr
Mirror 2:
Rapidshare
Older versions of Legions Heavy can be made available upon request.
Additional mirrors can be added upon request.
Installation Instructions:
1) Extract the contents of the downloaded RAR file into your Legions: Overdrive directory.
2) Make sure you set your entire data directory to read-only ([Legions Directory] > Live > Legions > Data).
3) If further help is needed, ask a question below or see
ColoredSpades' Guide to Installing Modifications
.
Lastly:
Have a suggestion? Found a mistake? Comments are always appreciated. Please leave one, whether negative or positive.